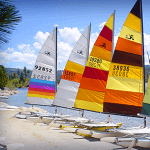 Evening Program is one of the highlights of Mountain Camp.  Every night between 7pm and 8:30pm, the whole camp comes together for an activity: Beach Party, Clue Night, Sock Hop, or one of the other classics.  Each summer, our Evening Program Coordinators work tirelessly to plan and run these activities, and this year, Jodie and Kito have outdone themselves by inventing a new classic.
CAMPCHELLA !  Mountain Camp's Music Festival.
Just take a classic music festival and campify it!  Campers get a wrist band and rotate through 4 different music stages, listening to different genres and singing and dancing along.
At the main stage, our KISS cover band rock and roll all night, and every day (or, more accurately, between 7pm and 8:30pm).  The Job Rockers are a full band, with amplified acoustic instruments, a smoke machine, and requisite face paint.
After being cleared through security, campers enter the main lodge, and grab a glow bracelet, as DJ Major Blazer, spins the latest in electronic music.
Campers then head back out into the forest for the Woodstock station, a decorated hippy encampment filled with love for music and the environment.  The Lonely Crescents sing 2 songs and give out flower-child names to anyone who wants one.
Finally, campers head to the grove, where Old Folk, our bluegrass/old time band plays You Are My Sunshine as well as their spin on a more modern tune.  Campers are given a bit of history on the music and then invited to sing along.
After rotating around all the stations, campers head back to the main stage for a few final musical performances before singing Tents and Cabins, our closing song.
Check out the 2015 Campchella edit below, produced by our Media Coordinator Ian!