*Due to the current state of the pandemic, we are not offering bus transportation or airport shuttles to/from camp for 2021. *
Car Transportation: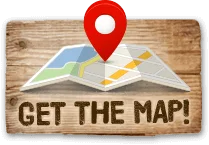 Drop off for campers on Sunday is between 2pm and 5pm. Pick up for campers on Saturday is between 9:00am and 11:30am. If using a GPS device and coming from the Bay Area, type in Ice House Lake and follow signs to Mountain Camp. If you're driving to camp from the Tahoe area, there is a shortcut that you can use as long as the roads are clear – see below:
Directions from South Lake Tahoe:
Head West towards Sacramento on Highway 50.
After passing Strawberry Lodge on Highway 50, proceed 4 miles and turn right onto Wright's Road.
Follow Wright's Road for 6 miles, then turn left – road name not posted but look out for a sign to Ice House Reservoir.
Proceed for 6 miles and Mountain Camp is on the left, although the sign is hard to see from that direction.
If you come to a "T" intersection you've gone half a block too far. Turn around and Mountain Camp will be on your right.
Directions from Sacramento:
From Sacramento, head East on Hwy. 50 past Placerville and Pollock Pines
8 miles past the 2nd Pollock Pines exit (Sly Park Rd.) you will cross a bridge above the South Fork of the American River
Immediately after you cross the bridge, turn left onto Ice House Road
Drive .7 miles and follow the sharp curve in the road to the right (do not go straight)
From this curve, proceed 8.5 miles on Ice House Road. At this point you will see Ice House Resort on the right
Continue on Ice House Road for 1.5 miles and turn right immediately after the sign that reads: "Ice House C.G." and "Mountain Camp"
Continue 1.2 miles to a four-way intersection and take the left fork towards Wright's Lake and Mountain Camp
After 1.7 miles take a left at the intersection marked by a sign says "Wright's Lake – 9 miles" and "Mountain Camp"
This sign is the corner of the Mountain Camp property, the camp entrance is on the right 100 yards after turning left at this corner
To map your way to camp, click here.
Click here for a map to camp.
Airport Transportation:

*We are not offering bus transportation or airport shuttles to/from camp for 2021. *
Bus Transportation:

*We are not offering bus transportation or airport shuttles to/from camp for 2021. *