Legendary Stanford University Athletic Director Chuck Taylor founded Mountain Camp in 1966.  For twenty years the camp operated in the Santa Cruz Mountains before relocating to its current site on Ice House Lake in the Eldorado National Forest in 1986.
Over the years, what was once a small, modest, extremely rustic program has grown into one of the finest private resident camps in the western United States serving more than 1800 campers each summer. Our 26 acre lakefront facility now contains the historic main lodge,  22 newly renovated kids cabins, a complete infirmary, 3 large shower houses, full-sized sand volleyball and basketball courts, sports field, challenge ropes course, private waterfront area, camp office, covered open air dining hall, camp store, campfire stage, archery range and much more.
Although it has seen many changes over the past 50 years, the one thing that has remained consistent at Mountain Camp is our outstanding staff. Their commitment to creating a community where creativity, friendship and positive character development are nurtured through recreational challenges and experiential learning is what continues make Mountain Camp so special for generations of campers and staff.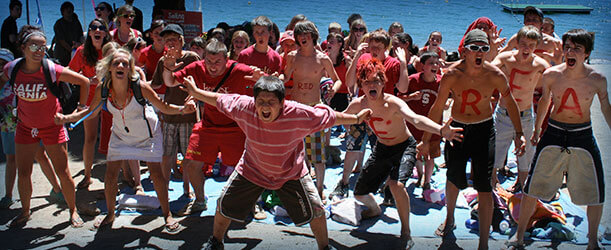 Philosophy
The program at Mountain Camp is developed and structured around the following three core areas: Building Community, Healthy Lifestyle, and Positive Self-Image.
We create a fun and safe environment that encourages independence while nurturing lasting friendships. Now more than ever, when children are increasingly surrounded by computers, televisions, video games, and smart phones, our goal is to get campers outside, actively creating, playing, making friends and learning lifelong outdoor skills.
Mountain Camp seeks to illuminate the special and unique character in every camper; we want campers to shine. Ultimately, our goal is to create experiences, friendships and laughter that stay with campers the rest of their lives.
Mountain Camp is committed to creating an inclusive environment that supports equal participation opportunities for campers and equal employment opportunities for staff members. We enforce a nondiscrimination policy for all persons, regardless of race, color, religion, sex, age, sexual orientation, gender identity or gender expression, marital status, national origin, or disability.
In alignment with our values and mission, Mountain Camp is committed to making our community a welcoming and comfortable environment for campers, families, and staff. Every member of the Mountain Camp community has the right to be addressed by a name and pronoun that corresponds to their stated gender identity. Campers have the right to be housed with the gender that most closely aligns with their gender identification and the right to access spaces that most closely align with their gender identity. We recognize that gender is not binary, and is a spectrum.  In the case of non-binary gender identity, campers will be asked to select a cabin gender in which they will feel most comfortable for that session. 
It is the responsibility of Mountain Camp and its staff to ensure that all campers feel safe, supported and celebrated in our camp environment.
We make every reasonable accommodation to allow campers and staff to participate in the community in the way they feel most comfortable, while respecting individual privacy. If there is something we can do to help make sure your camper feels comfortable and safe at camp, please do not hesitate to contact the office.
"When a kid thinks of an ideal summer camp, the first few thoughts that come to mind are normally things like campfires, fun games, songs, making new friends and lifelong memories. Mountain Camp has all of that, but with additional fun that one can't find anywhere else." - Kyra ( Camper Age 13)